Through extensive testing, Terrain Control Industries first product, Chain Brew chain lube, is ready for release. Developed on the Central Oregon desert trails, and brutally tested in Enduro and XC races from Canada to Downieville, Chain Brew has proven to perform. With it's Rootbeer smell, easy cleaning, and stellar shifting and friction reducing performance, we feel we've created the best chain lube on the market.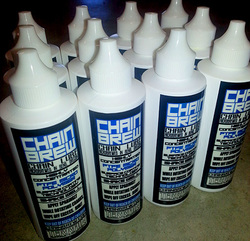 Terrain Control Industries has formulated the absolute best product possible. Using an extremely high concentration of microscopic PTFE polymer solids, blended with latest technology synthetic ingredients, we've created a product that works in every riding condition. This is a "wet lube", meaning your chain will look dirty at first, but keep riding and watch the chain basically clean itself, while keeping all the beneficial lube where it needs to be. Even when dried up, there will be a dry microscopic protective film, left behind.


Dealers, please contact us via email or phone, for pricing and ordering details.

---


CHAIN BREW 4oz bottle $12.99ea